A lot of the time, when parents think about developing creativity for their child they first think of the liberal arts. As a teacher at Rex Programming, I know that there is creativity intertwined in STEM as well. In my Junior FLL class, a program that is focused on real world problems, my students have come up with several creative ideas on how to solve issues in waste management. Through these ideas, they express their creativity and work with the other students to create tangible robots and scenarios. Sometimes, the youngest minds think outside of the box and with the Lego WeDo sets they are able to explore in a very fun way. In the Jr FLL class, my favourite parts of the learning process is watching the students create builds and telling their own story.
Programming is a language. Just as storytellers use their language to create literature, so do the students when they program. In MIT App Inventor, students use code blocks to build applications they can download to their phones. The students produce apps and customize them- from the smallest details of layout and colours, to creating multi-screen programs. The possibilities, and their creativity, are endless- robotics and programming classes are a great way to foster the drive.
This year, three Rex Programming classes are participating in the FIRST LEGO League (FLL) program. The FIRST LEGO League is an international competition organized by FIRST for elementary and middle school students, aimed at promoting excitement about STEM through real world application. This year's topic was titled "Trash Trek – Waste Wise." The goal is for the students to understand the ecological burden of waste and acknowledge solutions already in place, and then come up with an innovative solution.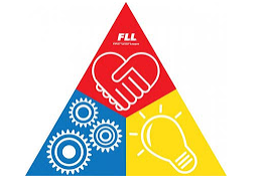 The FLL program consists of three parts- The Core Values, Robot Games, and Problem Solving Research. So far, our teams have set their roles and followed through with the Core Values- working together as a team and helping each other. The programmers and builders are testing their robots in the Robot Game arena.
The next step for our teams was to reach out to the community to research the "real life" trash problem. For maximum points, the teams must demonstrate completion of all three (3) steps of the FLL Project which are: research and identify a problem, develop an innovative solution to that problem, and share with others. This project is what Trash Trek FLL is all about.
Rex Programming was able to schedule a very good opportunity to gather some research information directly from Quest Resource Management Group, as well as Earth911.com.